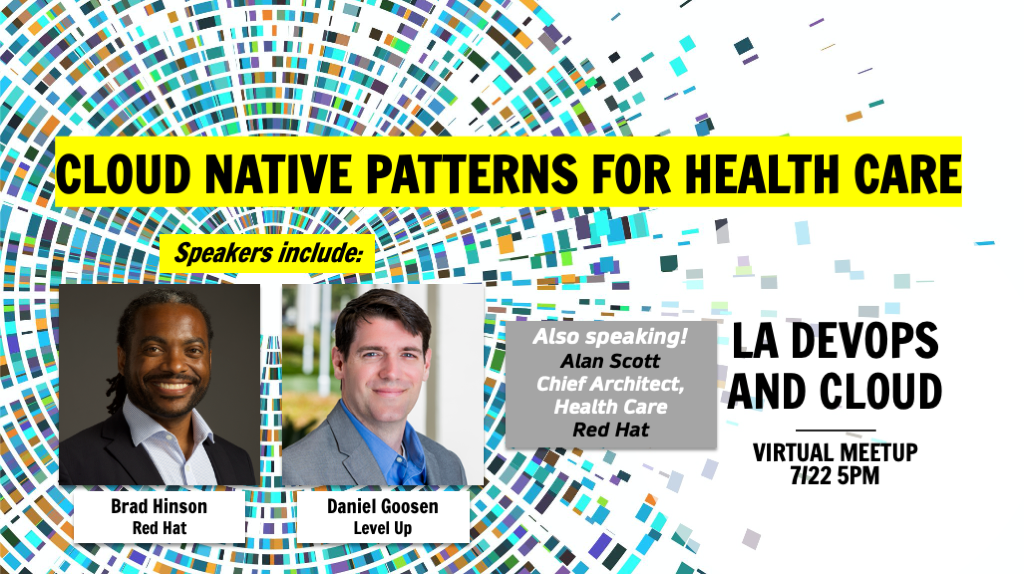 Level Up co-sponsored and co-presented at yesterday evening's virtual LA DevOps and Cloud meetup, alongside partner Red Hat and an awesome group of attendees from the health care industry and beyond.
Red Hat Principal Solutions Architect Brad Hinson drove a live demo on "Automating Compliance", showing the power of instantly bringing together tools like OpenSCAP and Ansible to achieve the various compliance requirements of health care organizations. Brad also highlighted the ongoing and tremendous Ansible vendor and community support, as evidenced by the many, many modules available today.
We were also joined by Red Hat's Chief Architect of Health Care, Alan Scott, showcasing "Connected Health / Intelligent Data as a Service", and also offering his insights on the present and future of open-source based health care technology after decades in the field.
You can check out Alan's slides here:
Level Up's Chief Architect, Daniel Goosen, presented as well.
As mentioned, here are some publicly-available AWS health care case studies for ideation/benchmarking:
What (Svcs)?
Why (Use Case)?
Who (Case Studies)?
S3/Snowball
EMR/ RDS / QuickSight
S3/ ASG/ Epic, anyone?
S3/ Glacier/ Snowball
CF/ CW/ CT
Lambda/ Aurora
VPC/ S3/ Lamba
DR/Biz Continuity
Health analytics
Clinical information systems
Storage/ archiving
Compliance
Care coordination
Patient engagement
And be sure to register for our next sponsored virtual meetup: "Women in DevOps", August 27, 2020: https://www.eventbrite.com/e/virtual-meetup-women-in-devops-tickets-114328084378
Video highlights from the July meetup will be posted soon. SUBSCRIBE for updates!